Charter class of National Academy of Inventors Fellows includes 8 from Ohio
From presumably sunny Tampa yesterday, The National Academy of Inventors named 100 innovators to Charter Fellow status, representing 55 prestigious research universities and non-profit research institutes. Three Ohio universities produced 8 of the 100.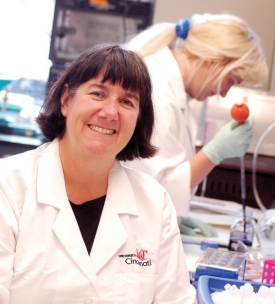 From the University of Cincinnati, Sandra Degen (pictured), associate chair for academic affairs in the College of Medicine's pediatrics department and interim chair of the molecular genetics, biochemistry and microbiology department, and Dharma Agrawal, Ohio Board of Regents Distinguished Professor of Computing Sciences and Informatics in the College of Engineering and Applied Science, were honored.
From Ohio University, John Kopchick and Gerardine Botte were named. Kopchick, Goll Ohio Professor of Molecular Biology, has developed intellectual property in the field of biotechnology that has made a significant impact on human health. Botte, Russ Professor of Chemical and Biomolecular Engineering, has become nationally and internationally recognized as a leader in the development of innovative solutions to alternative energy and environmental issues.
Four University of Akron inventors also were honored: Stephen Z.D. Cheng; Alan N. Gent; Joseph P. Kennedy, and George R. Newkome. The U of A inventors hold a combined 144 U.S.-issued patents.