Wright State biomed engineering students aim to improve prosthetics for injured veterans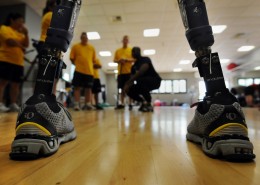 A team of Wright State University student researchers is determined to make artificial limbs more comfortable and, consequently, more useful. The students are working on a new design they hope to someday test at the Dayton VA Medical Center, which has 500 hospital beds and provides a full range of health care to veterans.
Tarun Goswami, joint associate professor of biomedical engineering and orthopaedic surgery at Wright State, is helping guide the research. He also heads the university's Device Development Center.
His students learned about common prosthetic problems by speaking to a few amputees at the Dayton VA.
"When talking to the patients, there were some expectations that they really wanted us to focus on," said student researcher Paige King. "A lot of it had to do with temperature control. Whenever they were really active, they would experience a lot of moisture that would build up in the liner."
King said patients also wanted improvements in the skin-rubbing edges of the socket and a self-adjusting feature to minimize clinic visits for refittings.
The students' research has led to ideas, which they have shared with VA officials and Gene McQuinn, president of PSMCo, a Dayton company positioned to produce any device designed by the students.
The researchers said they may create a design that incorporates a number of the temperature-control ideas and other improvements. They hope to file for patents and produce a prototype that can be tested.